Short Term & Customized: Jamaica
Plan a program in Jamaica with Amizade
Amizade participants have the opportunity to learn about local history and culture; explore the beauty of Jamaica's urban, rural, and coastal areas; and serve with the Petersfield and Galloway Benevolent Society (PGBS), a well-established community organization. Participants engage with local students, provide computer instruction, and participate in construction, maintenance and repair initiatives, and much more. Participants do not need prior experience in tutoring or construction as all projects are supervised by community members. Amizade participants in Petersfield stay with local families in homestays, designed to give an opportunity for both further cultural learning and deeper personal relationships.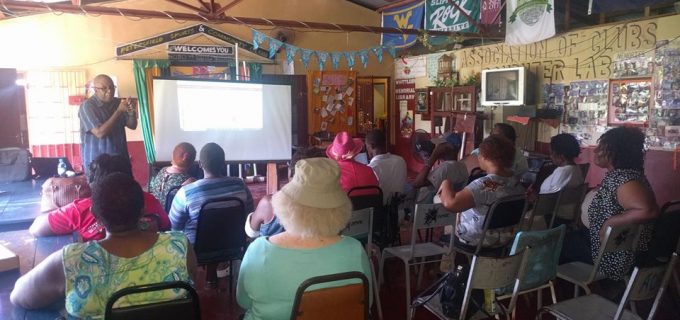 OVERVIEW
Jamaica is known for its beach resorts, tropical beauty, and warm, friendly atmosphere, yet the majority of this enchanting island is not visited by tourists. The small community of Petersfield, located in the heart of Jamaica's sugarcane industry, offers participants a glimpse into a more authentic Jamaican culture than the flashy Montego Bay destinations.
QUICK FACTS
Location: Petersfield and Galloway, Jamaica
Service Opportunities: Working with students in local schools, and construction and maintenance projects.
HOW TO PLAN A PROGRAM
We pride ourselves in creating mutually empowering and safe global service-learning programs. This means that when you develop an experience with Amizade, you're building a responsible, intentional, and community driven service-learning program. Programs typically have three phases: (1) pre-immersion, (2) immersion, and (3) re-entry. Amizade works with you in all three phases to develop your program, including to build curriculum, itineraries, budgets, evaluation, follow-up, and sustainability.
CONTACT US
The first step in building your program is to have a chat with us. We're a people-powered organization, which means a little less tech and a little more human conversation. Send us an email, give us a ring or fill out this form to initiate the start of your journey.
PROPOSAL
Once we're all feeling good about a potential collaboration and have a clear, co-created vision, Amizade and its partners submit a proposal to you. The proposal will include an overview of what you might be engaging in, a draft itinerary, health and safety information, and a transparent line-item budget.
CONTRACT
After the proposal is agreed on, we send over a digital contract. This includes important legal and financial considerations. After a signed contract and a non-refundable $1,000 deposit are submitted, we can officially lock in your dates and begin the process of preparing for your program.
PRE-IMMERSION
This phase includes pre-departure orientations (we mandate at least one with our staff), learning about the process of travel, culture, service, and the community you are visiting. This is also when family and community sensitization takes place, as well as any relevant coursework. Often this is when we see group bonding start, comfort zones being extended, and new challenges (as well as some nerves and excitement).
IMMERSION
This is the travel phase. Community engagement, reflective practice, academic inquiry, and exploration all should be taking place at this time. All of our programs are a mixture of service, workshops, and cultural and recreational activities. Participants will step out of their comfort zones, try new things, engage complex issues, be introduced to new networks and ideas, and bond. Often this can be a very disrupting, inspiring, and transformational experience.
RE-ENTRY
After a transformative experience, we sometimes can fall right back into the grind of life when we return home. It can be tough, isolating, and confusing. Re-entry is perhaps the most important phase for determining what kind of neighbor – the very person – you become. It's also the easiest to ignore. In this phase, there should be serious reflection, advocacy, support systems, and/or a plan for community engagement, or social action. Depending on the design and funding of your program, Amizade can help create a plan and opportunities for participants.
Since 1994 we have been thought leaders and pioneers in developing best practices in responsible global service-learning, study abroad, and solidarity-building volunteering experiences. We work with:
Universities (faculty-led, alternative break, and semester abroad)
High Schools
Community and Religious Groups
Corporations
Government Agencies
COMMUNITY PARTNERS
PGBS
The mission of the Petersfield Galloway Benevolent Society is to help communities establish self-reliant organizations linked with others so that ordinary people can have a much greater part in building the community and the country. The PGBS is a community-based organization organized to develop and secure the implementation of strategies and policies which address the principal social and economic problems facing the community.
JAMAICA TEAM
Ms. Clark
Site Director
Ms. Fenton
Site Director
Bibi Al-Ebrahim
Site Liaison
SAMPLE ITINERARY
Find a sample itinerary of activities for groups in Jamaica.
PLAN A PROGRAM
Amizade is looking forward to having you in one of our programs.
plan a program
LEARN ABOUT THIS SITE
Get to know the history of our partnership in Jamaica.
VISIT THE SITE