Amizade Needs You in 2013
As 2012 comes to a close, we at Amizade would like to thank you for all the positive changes that you have helped bring about in our organization and throughout the world. In 2012, Amizade facilitated life-changing experiences for over 550 volunteers who provided more than 30,000 hours of service. That's over 6,000 volunteers since Amizade's start 1994! None of it would have been possible without your encouragement and financial support, and we thank you.
One of the biggest changes has been the expansion of our Fair Trade Learning model which recognizes that the individuals and communities that host students and volunteers are uniquely impacted by visitors and should: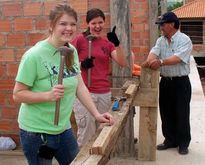 Be offered fair working conditions and compensation;
Hold significant voice in the orchestration of programming and planning; and
Be offered proper professional development opportunities.
This includes working to offer partially or fully subsidized opportunities for individuals in our communities abroad to engage in service-learning programs in the United States. This past year, we have been able to bring visitors from our partners sites in Brazil, the Navajo Nation, and Jamaica to the Pittsburgh area to participate in personal and professional development opportunities. With your support, we can to continue to develop this model in coming years.
In 2012 Amizade also grew to include new locations and service opportunities. Trinidad & Tobago and India, our two newest sites, hosted their first Amizade volunteers this past summer. This year we also extended our service-learning opportunities to include an international group of students from Middlesex University- Dubai who visited our site in Ghana while also expanding opportunities in our own backyard with a group of youth from Pittsburgh's Hill District who served in Jamaica. This has inspired us to launch a new partner site in Appalachia, to further serve and engage with communities in our own region. More on this soon! Donate now to help Amizade continue to grow, connecting even more individuals and communities through worldwide service and learning.
We continue to be inspired by all the work being done around the world thanks to Amizade volunteers, and we ask you for your financial support to continue empowering individuals and communities through worldwide service and learning. Please consider becoming an Amizade member by enrolling in our monthly donor program. Whether you are able to give $5 or $50 per month, your recurring contribution is essential. Your donation makes it possible for even more individuals, from the U.S. and abroad, to participate in transformative experiences. Click here to donate now.
Happy holiday friends, and thank you for your continued support this year and next.
Warmly,

Brandon Blache-Cohen
Executive Director